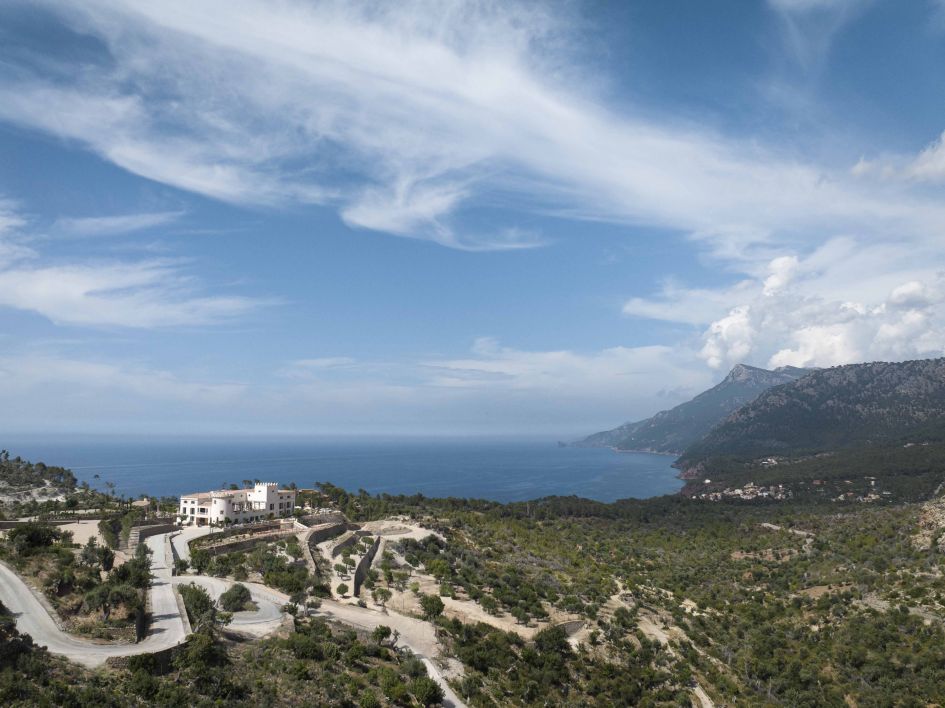 Sir Richard Branson is well-known for his various Virgin business including venturing out of space, but did you know that he offers tourism much closer to home? Sir Richard has built a property empire including a private hotel on a vineyard in South Africa, a ski chalet in Verbier, a luxury tented Safari Lodge in Kenya and even his own private Island in the British Virgin Islands. He offers people the chance to stay in his private properties and indulge in the kind of lifestyle that he enjoys. The clear example that really showcases the 'Sir Richard Branson lifestyle' are its private luxury villas in Mallorca, situated within the Son Bunyola Estate on the beautiful Balearic Island of Mallorca. Here's a little more about it…
Son Bunyola Estate
Set within the stunning Tramuntana mountains, Son Bunyola is a vast estate on Mallorca north-west coast, covering 1,300 acres of breathtaking landscape and including three luxury villas: Sa Punta de S'Aguila, Sa Terra Rotja and Son Balagueret.
The Estate is located just a few kilometres from the Mallorcan towns of Banyalbufar and Esporles. These traditional villages have a range of local amenities including a variety of restaurants and typical Spanish tapas bars.
The capital of Mallorca, Palma, is just 25km from Son Bunyola so accessing the larger city is easy. A hire car is recommended, mainly as this gives you the opportunity to explore this beautiful part of the island. Palma de Mallorca Airport is just 40 minutes from the estate and there are a range of flight options from most main European airports daily.
Each of the 3 Mallorca luxury villas are unique in their own way, and they can be booked independently or as a whole, ideal for large groups looking for privacy but with friends and family nearby.
Central to the Estate is the new Son Bunyola Hotel, recently converted from the 16th century UNESCO World Heritage Site finca and now carefully renovated into a luxury hotel boasting 26 rooms and suites, while still honouring the heritage of the original historical building through its design.
Benefiting from a breathtaking background alongside the rugged rock faces of the Island coastline, the Son Bunyola Estate will represent the idyllic hideaway for your next luxury summer holiday in Mallorca.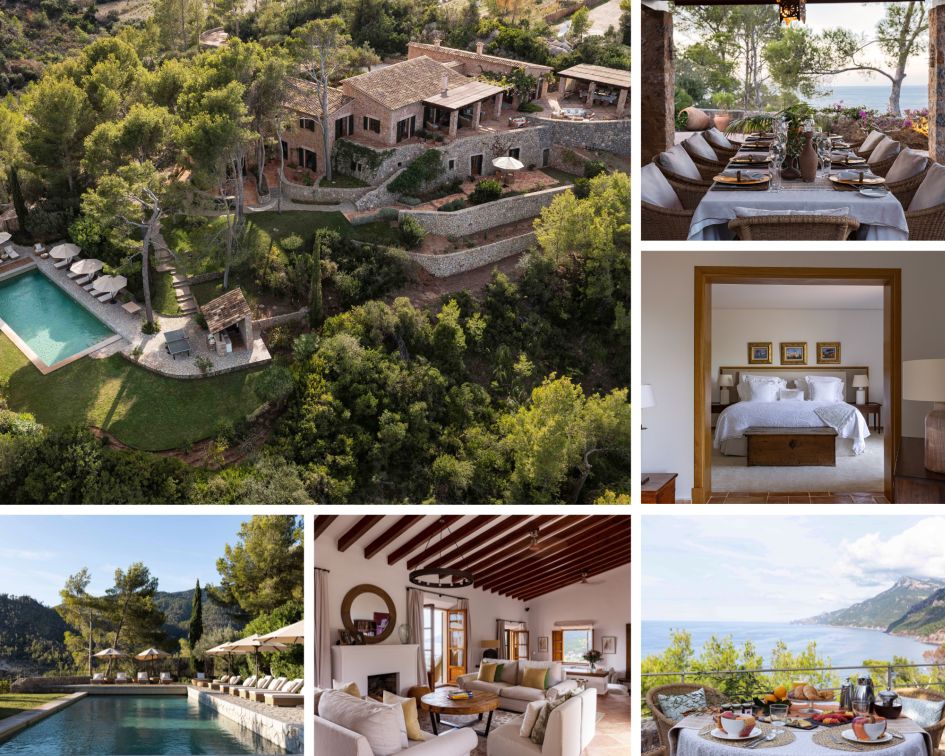 Sa Punta de S'Aguila sits in a commanding location on a track above the rugged coastline below. Translating as Eagle's Point, the property was built in a style reminiscent of other typically luxury villas in Mallorca, including cooling tiled floors and high ceilings with exposed wooden beams.
This luxury Mallorcan villa blends effortlessly into its surrounding and the focal point from the main terrace is the amazing panoramic view of this beautiful stretch of coastline. The 15 m heated swimming pool is the main external feature, where you can relax with a refreshing drink whilst taking an occasional dip to cool off.
Sa Punta de S'Aguila can accommodate up to 10 guests, spreading across 5 en-suite bedrooms, all of which have their own terrace complete with a table and 2 chairs. The villa is offered on a fully-catered basis, and it is ideal for a couple of families or mixed group of friends looking for a luxury villa holiday in Mallorca.
Sa Terra Rotja means Red Earth in the local Mallorquin language, and referring to the red ground surrounding the property. This lovely luxury Mallorca villa is offered on a fully catered basis and can comfortably sleep up to 8 guests, featuring 4 en-suite double bedrooms.
The property has an amazing terrace with breathtaking vistas of the coastline and forests surrounding the Estate. The 15 m heated outdoor pool is a haven from the midday sun: whilst the cool interiors of the villa feature a large living and dining area. You may even choose to dine alfresco on the large terrace to make the most of the picture-postcard views.
The grounds of the villa are set up with hammocks and are impeccably landscaped and well maintained.
Son Balagueret is steeped in history: the turrets of the building date back to the 13th century and small slotted secret windows would have been the lookout points for attackers. The house has a central courtyard providing a sense of space and allowing refreshing sea air to breeze throughout the villa.
One bedroom is strategically located within the villa's turret, with a curved stairwell leading from an en-suite bathroom on the lower level, up to the first floor sitting room and then on to the upper level bedroom. It truly has a fairy-tale feel to it.
If you fancy a Mallorca villa with private pool, your wishes will be fulfilled at Son Balagueret. Its 15 m x 5.5 m outdoor pool allows you to recharge while taking in the stunning views surrounding the estate. The property can sleep up to 8 guests across 4 spacious en-suite bedrooms, and it is offered on a self-catered basis.
What's included at these luxury villas in Mallorca?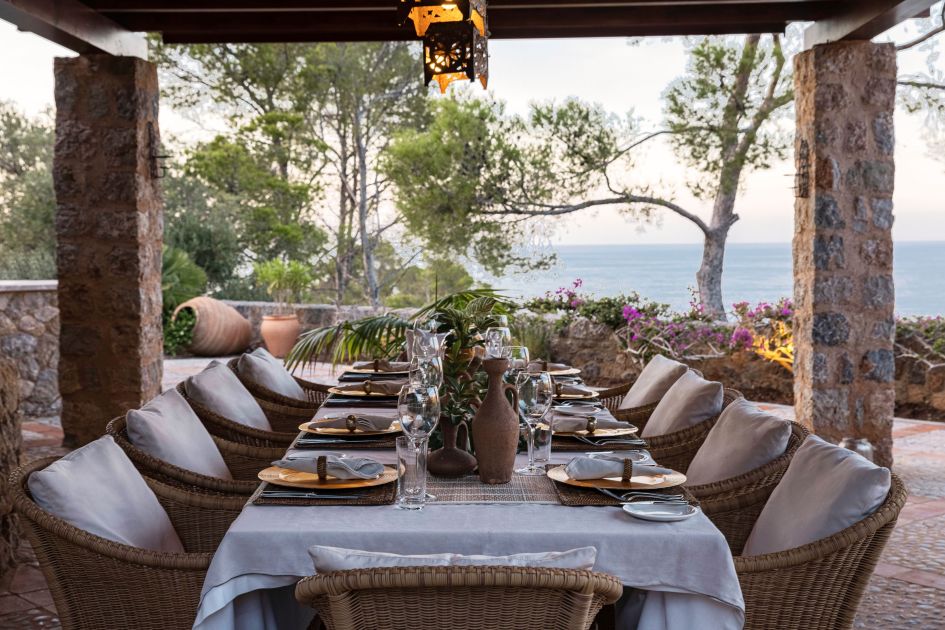 The joy of staying in any of these holiday villas in Mallorca is that you have the Son Bunyola estate team on hand to ensure that your holiday is peaceful and the only thing you have to think about is occasionally topping up your sun cream.
The price includes:
Accommodation in your private luxury villa for 7 nights
Welcome basket
Daily housekeeping
Towels and linen throughout the week
Pool towels
Pool and garden attendant (to set up furniture and pool for the day)
Concierge assistance to book taxis and make restaurant reservations
Access To Son Bunyola Hotel Facilities (Restaurants & Spa)
Highchair, cot (on request) and children's toys
Wi-Fi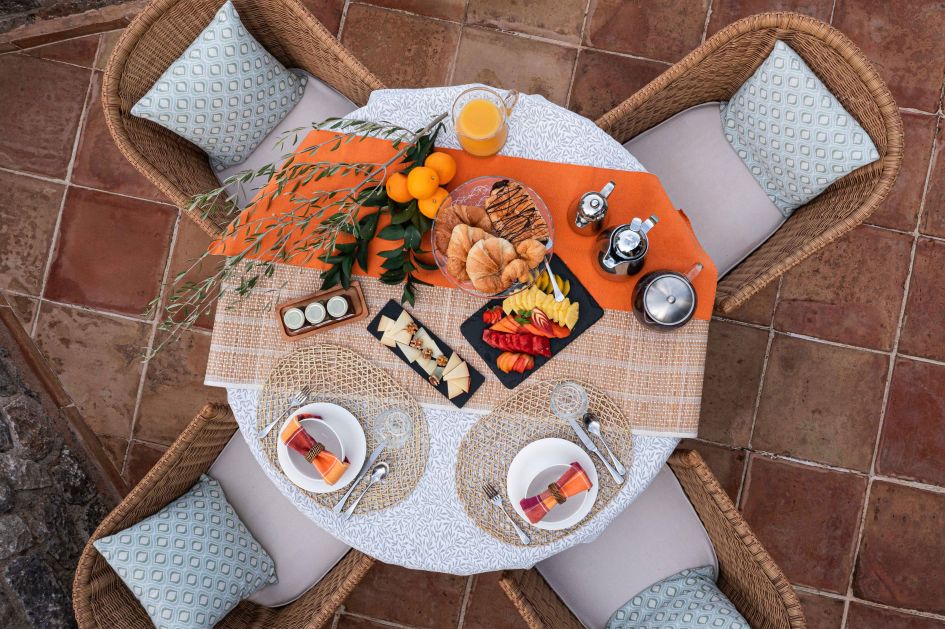 If taken on a fully-catered basis, Sa Punta de S'Aguila and Sa Terra Rotja come also with its own chef who is on hand to treat you to local delicacies. This region of Mallorca has an abundance of beautiful fresh produce, and so you can expect fresh fruits, the most organic of salads, meats and fish from the local markets.
The chef and hostess will be on hand for a buffet style lunch, a 3-course evening meal and will leave out a daily continental breakfast, giving you the chance to rise from your bed at your leisure.
All drinks, including alcoholic beverages, are included and you are welcome to help yourself. Try some of the local wines, hand-picked by the team. If you have a favourite tipple, let us know, and we can request that the villa has it stocked up for when you arrive.
Activities at the Son Bunyola Estate
Some people like to kick back and relax when staying in the estate whilst others prefer to be active, get out and about and explore. So what kind of things can you enjoy doing during your stay at Son Bunyola?
Tennis/Table Tennis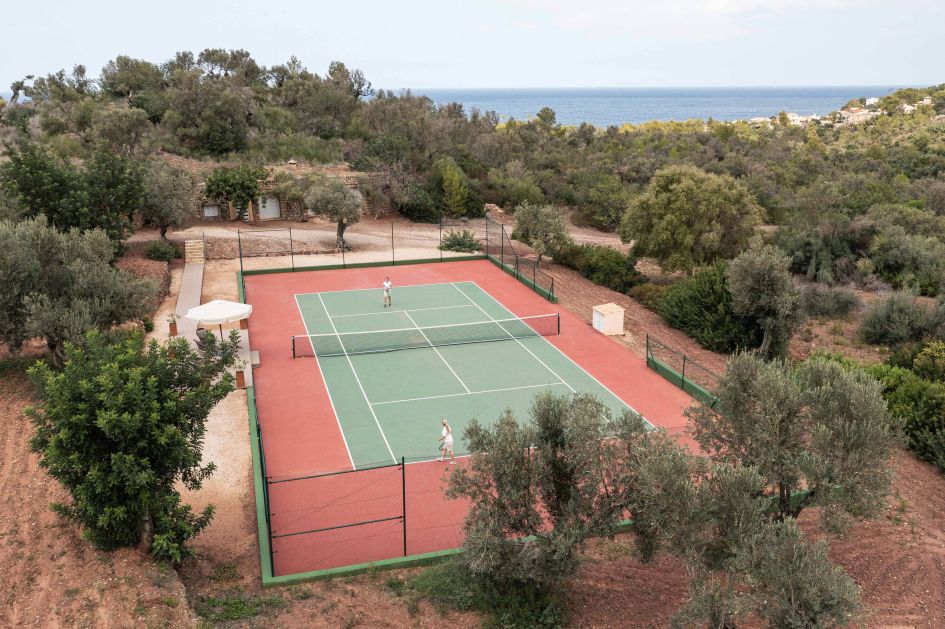 There is a tennis court near Sa Terra Rotja which is shared by all three villas. Equipment is provided and lessons can be arranged on request. Each villa has its own table tennis table; note, the ping pong is highly addictive and is likely to unleash your competitive side. Who will be the winner in your household!?
Hit the beach
There is an adorable pebble beach within the Estate. Hikers enjoy walking the famous coastal paths that are scenic and secluded. To walk to the beach will take approximately 20 minutes from Sa Terra Rotja and Sa Punta de S'Aguila or 40 minutes from Son Balagueret via Sa Terra Rotja. Alternatively, venture around the Island and discover the Top 10 Beaches in Majorca!
Cycling
Cycling holidays in Mallorca are becoming increasing popular with people looking to train in a warmer climate. If however you just fancy a casual ride around the local roads and tracks then this is possible too. Whatever you fancy, the team at the villas can help you hire the right bikes.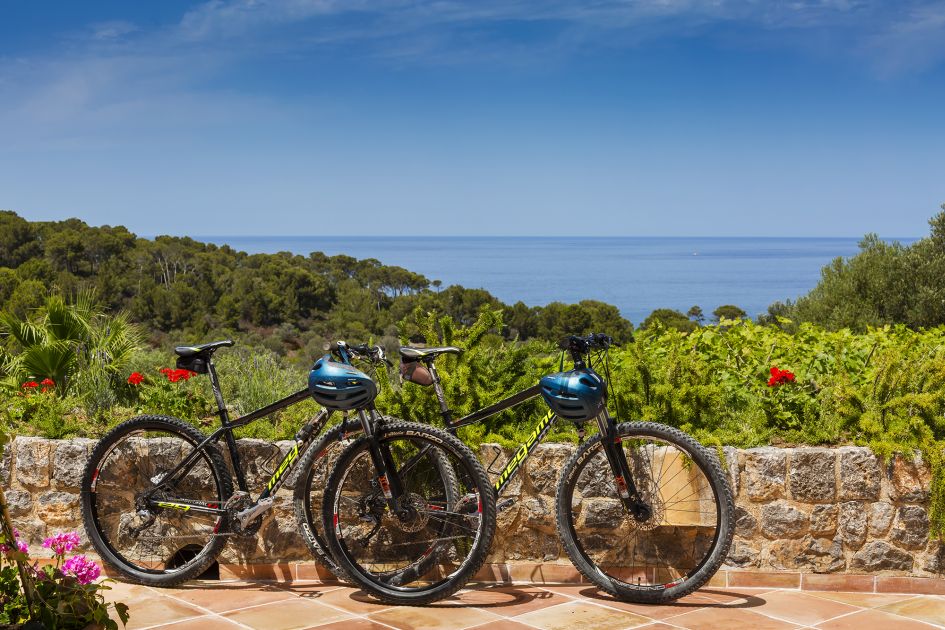 Walking
The area is perfect for tranquil walks. As the estate is 3km x 5km, so there are plenty of walks within the estate itself. Alternatively, you can walk to the beach and join the coastal path. Walks can also be enjoyed to quaint villages bursting with local and authentic culture with cafés perfect for that well needed coffee stop'
Spa Treatments
How does receiving a relaxing massage in the shade of a large tree whilst the wind blows through your hair sound? Massages can be arranged on request.
Golf
There are over 20 golf courses in Mallorca. The nearest course is Golf de Son Termens which is just a 30 minute drive from the estate. The course enjoys lovely views and the villa team will be happy to book you a tee off time if required.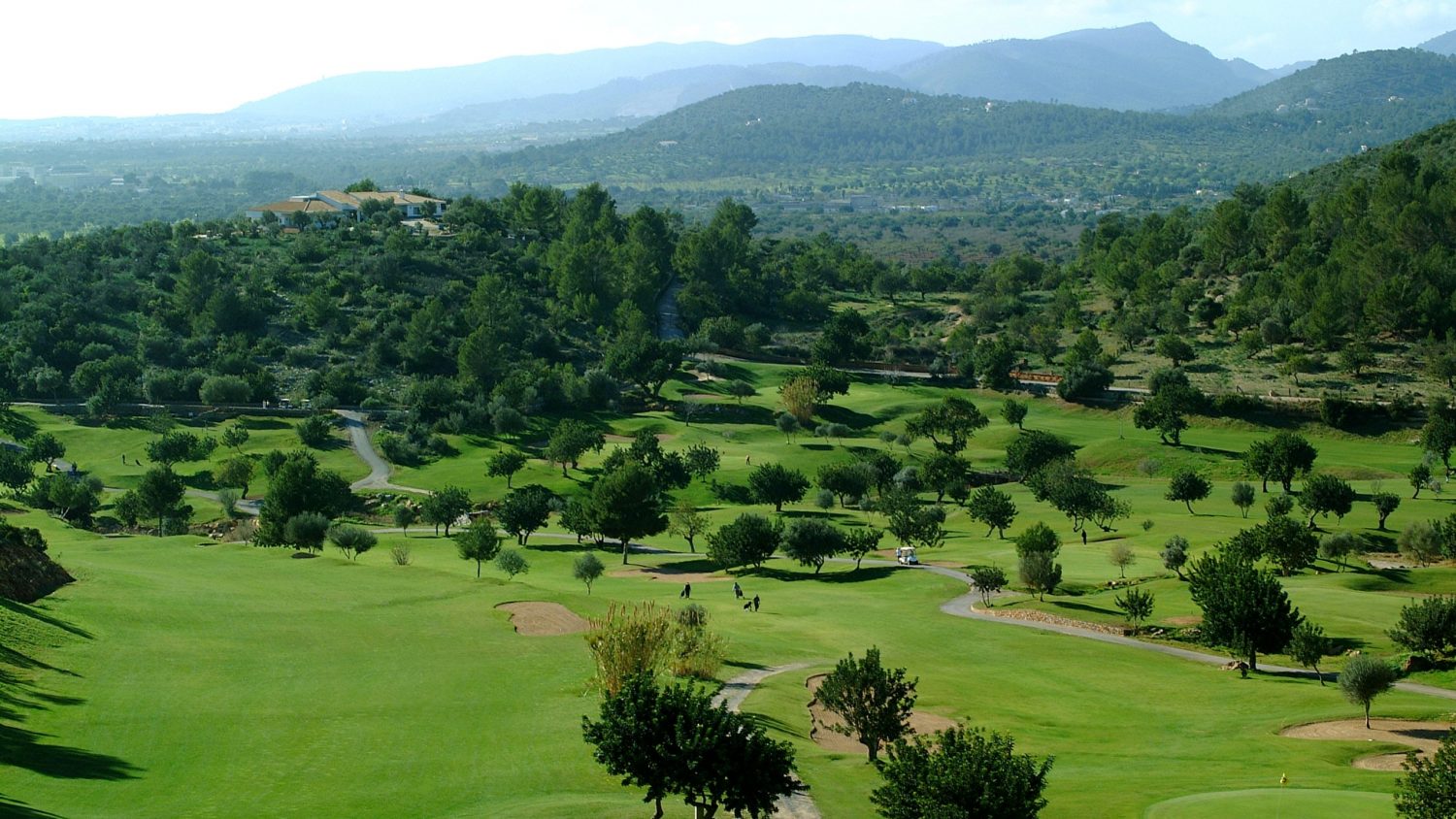 Sailing
Mallorca has an idyllic setting in the tranquil Mediterranean Sea. The island is popular with sailors of all abilities and the villa staff are happy to match you up with a skipper for the day, so you can head out and enjoy these beautiful, typically calm waters.
Canoeing and Kayaking Tours
If you prefer to feel the water closer at hand, then a kayaking or canoeing trip is the perfect way to cool down on a warm sunny day. A sea-kayaking trip provides the perfect opportunity to see the beautiful rugged coastline and make unforgettable memories on your luxury holiday in Mallorca.
Deep Sea Fishing
As well as sailing, Mallorca is also popular with those who enjoy deep sea fishing. A day out on the water offers the perfect opportunity to catch a fish for the BBQ that evening.
Swimming
All 3 villas come with their own private swimming pools. They can be heated if required and provide the perfect place to cool off on a hot summer afternoon. You may even find you have a big inflatable plastic friend looking to join you if the photo below is anything to go by.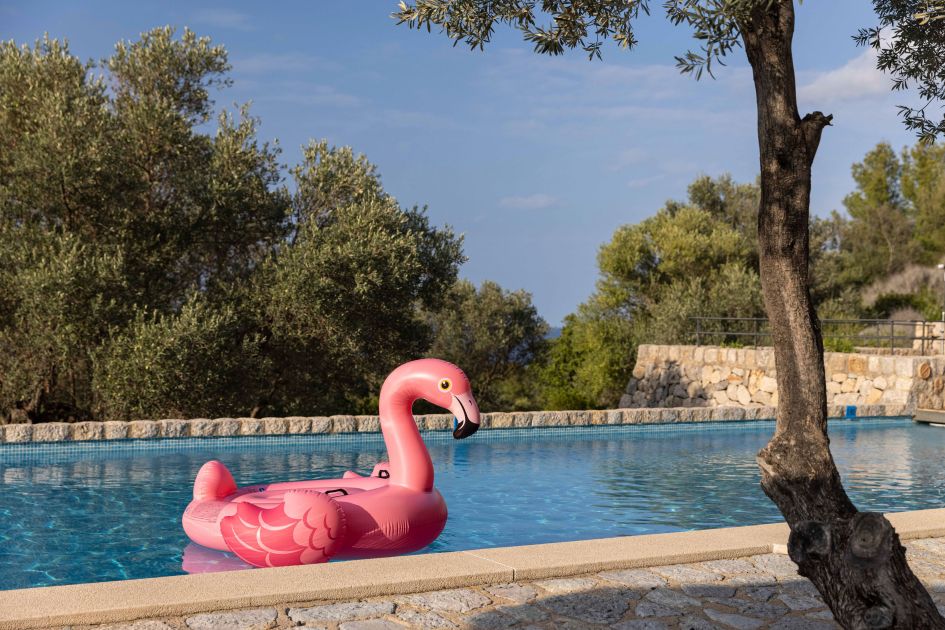 The next time you're looking for a luxury villa in Mallorca, make sure you consider a stay in one of the wonderful properties of the Son Bunyola Estate. A vacation in these villas can be as active or chilled out as you'd like, providing everything you may need for the perfect luxury holiday in Mallorca. With a team of staff on hand, the only decision you'll have to make is whether you'd like a glass of white or a glass of red.
Make sure to keep up to date with our social media channels by visiting our Twitter, Instagram and Facebook pages.
If you would like more information on the villas within the Son Bunyola Estate or if you wish to know any information about a Mallorca summer holiday then you can call one of our Villas Specialists on +44 (0) 1202 203656 or alternatively send us an email.