A beautiful roller-coaster drive meandering through lush green valleys and enormous, snow capped mountains. The legendary Mont Blanc peeping through the clouds on our journey, all in aid of finding you the perfect Luxury Chalet experience!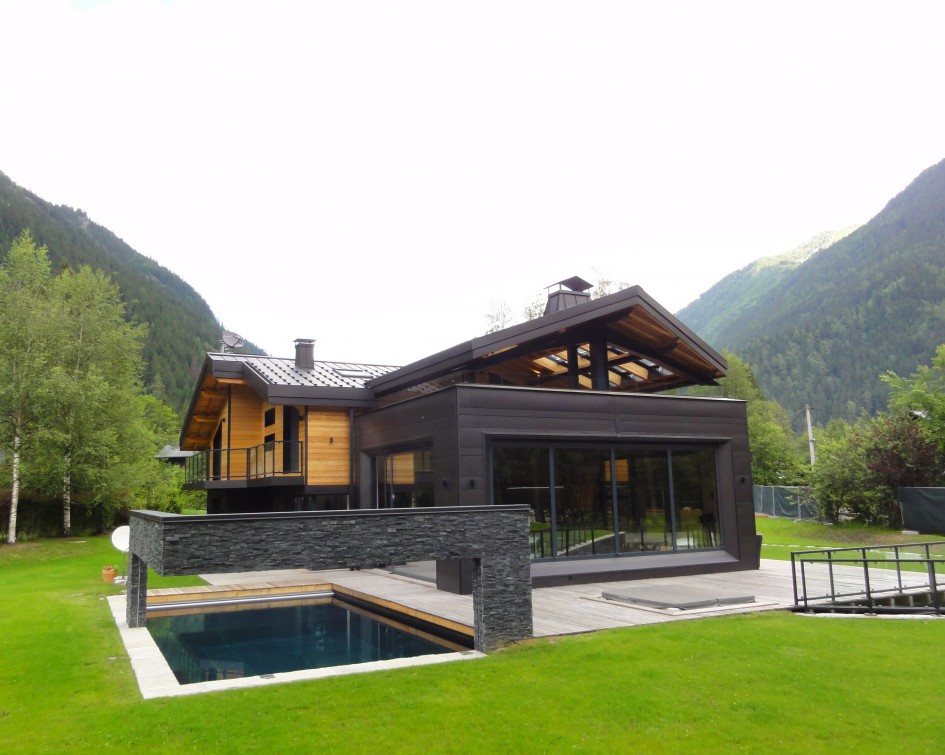 Arriving at the Chalet Dalmore, this private sanctuary is a magical place to call home during your holidays. The open plan living space has the true 'wow' factor with huge glass panelling creating a bright, spacious living area during the day, and a sparkling, mirrored effect at night where you can enjoy dining or relaxing around the cosy log fire. Slightly large for just the two of us, my colleague and I spent the evening wearing in our complimentary slippers (I mention this as they are absolutely dreamy!), and navigating around the property before a comfy night's sleep.
For a refreshing wake up call, don the thickest wetsuit you can find at Prestige Outdoor, grab some team mates and take to the rapids on a white water rafting trip. If, like us, you're flying rather more solo, the lovely French guide will take you head first down the River Arve on a hydro-speed tour. Make sure ladies, you don't plan on getting your legs out for a lovely meal in the evening as bruises (and amazing memories) are a sure thing on this rigorous rapid ride!
For those less tempted by the cold glacial water, there are glorious walking trails, terrace restaurants, old fashioned toy shops and cobbled streets to wander through and even watch the River Arve rushing downstream through the town.
Have a relaxing round of golf right next door to Chalet Dalmore or head downstairs to use the sauna and have a private massage before taking a short walk to La Cabane for some fine French dining. My taste buds took a fancy for the delicious 7 hour cooked honey and lemon lamb and crisp local white wine before heading back to the chalet for a dip in the outdoor hot tub! Comforting our aching bodies in the hot bubbles, we plugged in the iPod on the uber cool sound system and sat back to enjoy the dominating presence of the surrounding mountains and fir trees – an absolutely incredible sight against the contemporary architecture of Chalet Dalmore.
If you can manage to tear yourself away from the comfy bed and eclectic array of magazines and quirky books, wake up early and take the steep train up Montenvers and see the Mer de Glace in all its glory. It is a short hike down to the glacier where you can explore the ice caves before taking the cable car back up to the top. If you're not afraid of heights, (which, let's face it – you're in the Alps!) head up Aiguille du Midi on the highest cable car in Europe and edge forward into the glass cube that hovers precariously over the mountains with a 1000 metre plummet!
With our feet firmly on the ground, we followed the windy mountain roads and picturesque landscape as we left Chamonix and got waved through the French/Swiss border heading onto Verbier.
Arriving at the flashy W Hotel, we pass a gleaming red Ferrari and hand over the keys to the concierge to park our inconspicuous hire car. I'm not sure what the W stands for but it this case, it can easily be interpreted as WOW!!!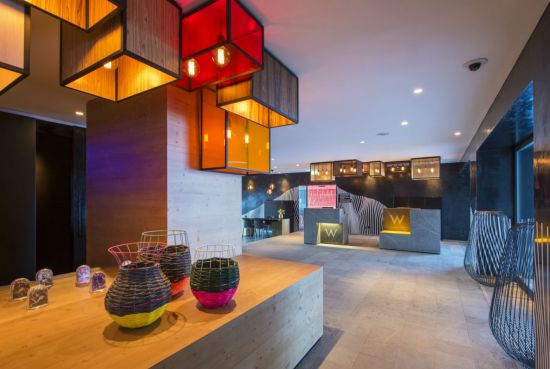 If Helvetica, straight lines and quirkiness is your thing, then head straight here for contemporary design, a plethora of arty books, high tech TV and sound-system (which, not surprisingly, I couldn't figure out!), ridiculously soft dressing gowns, citrus bathroom treats, a tranquil maze of spa facilities and fine fusion dining to die for.
The bedrooms are chic, however not for the shy or work colleagues, as there is an open plan bathroom (with a separate toilet hidden in the wall)! Wherever you stay in the W Hotel, you will find your own private balcony with stunning views down the mountain as far as the eye can see.
There is a vibrant scene here supported by the local community. W Hotel is a new addition to the valley, which has brought with it an exclusive night club, restaurant, après ski bar and even a pop up beach for the summer, which is all accessible to guests and the public. The W Hotel also offer residences for a more private and intimate experience offering room service at no extra cost. These are great for families being extremely spacious and often spread over two floors, they continue the W Hotel Verbier design throughout.
There are other hotels nearby, both Hotel Nevai, which is also in a contemporary style, very clean, white and has its own Sushi bar – one for party goers with the infamous Farm Club just next door! There is also Hotel Cordee, which is a completely different style with its antlers and cosy interiors, you know you're in the mountains and is great for families.
For a more intimate experience we checked out the Chalet Spa, a stunning chalet on the mountainside with fantastic views and facilities to keep the whole family occupied. The large decked area wraps around the front and the right hand side of the Chalet as you look out over the mountains. The perfect spot to snuggle up with a fur throw on the sofa with a book, take a dip in the indoor pool with views outside, and have a glass of wine in the bubbles of the hot tub. Long dining benches and tables are also situated outside for a great family BBQ, where the staff can tend to your every need.
This pad really does have it all, not only on the surface with its contemporary design, but also behind the scenes. With its impressive collection of gadgets, you will find mirrors that turn into TV's, a shiny pool table, a cosy Cinema room with games consoles and its own iTunes account to watch movies till your heart's content, iPads in almost every room which can control the sound system throughout the property, close doors and windows and much more. You will need to get out and get active here as you really could find yourself relaxing and not having to do a thing in Chalet Spa!
So get out exploring… there is plenty to keep the active occupied here, not only in the winter with the fantastic ski opportunities, but also in the summer with an abundance of mountain biking and hiking trails, Heli tours, golf and much more!
Having worked up an appetite, take a drive up the mountain to cosy hilltop restaurants such as Marlenaz or just next door, Sonalon, where you can enjoy some local cuisine, wine and truly amazing views. Tempting as it is, be sure to take a night off the fine wine or après ski bars as you'll need a fresh head for the mountain drive before taking to the skies on a parapente flight!
The awesome twins, Mike and Stu, from Verbier Summits took a rather reluctant me, and my colleague, out for an unforgettable experience! They kept us calm (well as calm as can be expected when jumping off a mountain!) and we felt in safe hands soaring through the sky above the pine cladded terrain below. The air here is so fresh, and the sun was shining, which made for perfect flight conditions. I was absolutely petrified being ridiculously scared of heights but we were so glad we did it, a truly incredible, once in a lifetime experience, this is not one for the faint hearted, but hey, when in Verbier..!